Vinyl Siding
Vinyl paneling is the most common exterior siding in Texas. The material offers a pleasing aesthetic and requires little to no maintenance. Offered at a high value per board, this affordable and beautiful material is widely loved.
Vinyl siding is available in just about every color imaginable, and its color is resistant to surface damage. As the pigment permeates the entire board, scratches make no difference in its outward color. It also comes in a wide variety of shingles, shakes, and board styles. The material requires relatively little in terms of installation, making its labor costs significantly lower than other comparable exterior materials. Vinyl siding is the most cost-effective exterior siding choice on the market.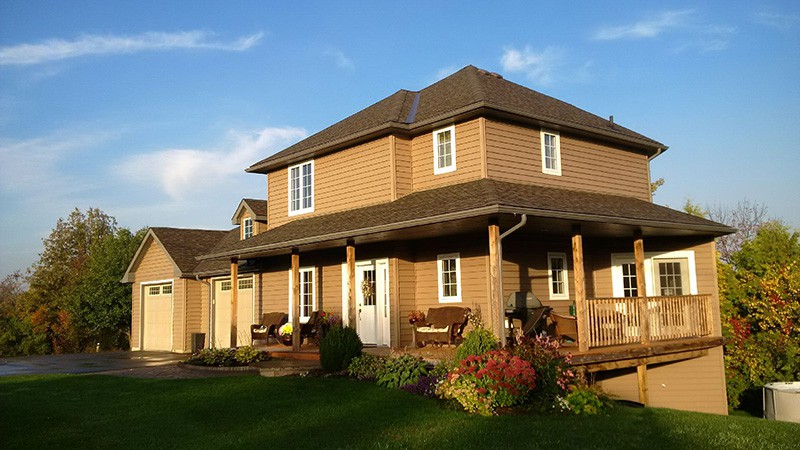 Whether you are looking to remodel, renovate, or build something from the ground up, vinyl siding is a fantastic choice. The material's malleability allows for the warm and inviting appearance of natural wood planks, but its chemical construction enables it to endure harsher weather conditions. Vinyl paneling does not split, peel, or rot. Because the pigmentation permeates the entire board, it does not require scraping, painting, or staining. Maintenance is as easy as could be—simply spray your siding with a hose sometimes and it will look beautiful for many years to come.
BENEFITS OF VINYL SIDING
Painting is not required
Low maintenance and easily washable
Offered in an array of colors and shades
Available in many different styles (lap, fish scales, scallops, shakes, and more)
Offered with insulated backing to increase energy efficiency
Has a long life-span
Home and business owners regularly praise vinyl siding for its aesthetic appeal as well as it's quality composition. The product is offered in a number of colors and textures, allowing owners full creative control over the appearance of their building's exterior. In the past, vinyl paneling has been offered in neutral and pastel tones, but these days it is manufactured in nearly every shade on Earth. Bright, vibrant vinyl siding is a fantastic option if you are hoping to make your home stand out from the rest of the neighborhood. Even if you are aiming for a more subdued shade, vinyl's color sustainment is remarkable thanks to the complete saturation of pigment throughout the boards.
Like any other colored product, vinyl siding's color will eventually fade. Its rate of degradation, however, is very slow compared to painted natural wood. Even when vinyl siding at scratched, the marks are barely visible. There is no outer layer of paint to scratch through, and each additional layer is the same color as the one on top.
HISTORY OF VINYL SIDING
Brought onto the market in the mid-20th century, vinyl paneling was originally pitched to consumers as a sturdy replacement for aluminum siding. As it was a recent invention at the time, it was not the highest quality material. In the 1970s, however, new manufacturing technologies were invented and the product underwent an incredible industrial transformation. After this overhaul, vinyl was produced quicker and more efficiently. It also developed greater durability and resistance to impact.
As producers began to broaden their color offerings, consumers began to take notice of the material. Ever since then, vinyl's popularity has been on the rise. Its low-maintenance durability is its highest selling point. The product was without competition until Hardie siding began to appear in its corner of the market.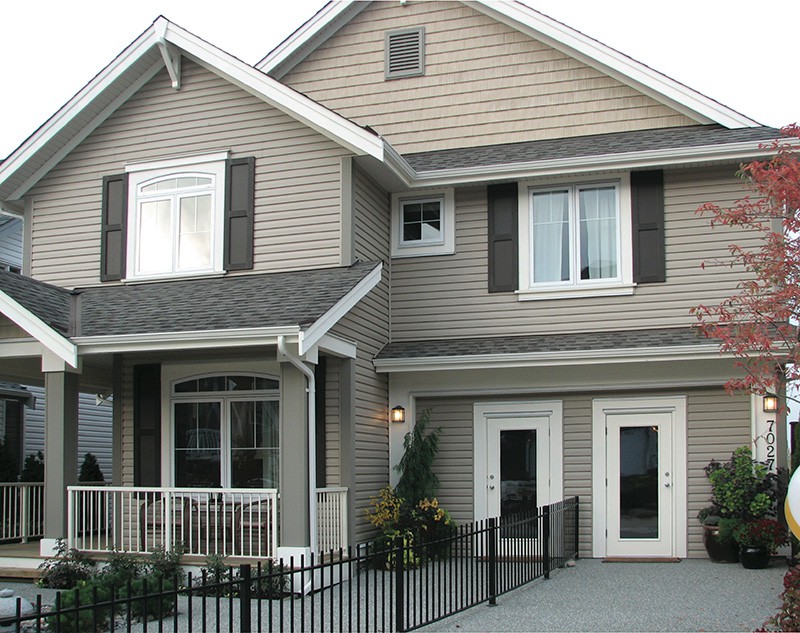 As it stands right now, vinyl paneling is enormously popular all across the United States. In a market saturated with vinyl products, there is a wide range of material quality. On the lower-quality end of the spectrum, the thickness of the product is roughly 0.3 mils. On the higher-quality end of the spectrum, the thickness is around 0.6 mils. As for the product's durability, it really depends on what the base ingredients of the product are.
Every manufacturer uses different processes, and each has a different result. Many manufacturers will also provide a range of thickness options in their vinyl siding offerings. This allows them to appeal to a wider range of price points. Thicker boards tend to be more rigid and last longer than thinner boards. Thicker panels are also more resistant to vinyl's greatest weakness: the predilection to crack or break when it is struck by a hard object or when it is very cold outside. As Dallas and the surrounding areas tend to have warm weather in all seasons, this tendency to crack in the cold is a rare concern for the region.
Vinyl's chemical formula is different from manufacturer to manufacturer, and each particular recipe greatly alters the product's longevity. When selecting vinyl paneling, one of the most important factors to take into consideration is the product's Uv-protective coating. On most all boards, a coat of UV protection is applied to the product's outer surface. This protective layer protects the board from harmful sunlight that can cause structural and aesthetic damage. As a general rule, the higher grade the vinyl, the greater UV protection it will have.
TYPES OF VINYL SIDING
The exterior paneling market offers a wide range of vinyl siding. Amongst the most popular options are false stone, false brick, false wood, and siding boards. Traditional, certified vinyl siding is also a very popular option. High-tech production technology enables vinyl siding producers to create materials that mimic any number of home exteriors.
Vinyl is able to recreate the appearance of high-cost exteriors on a tight budget. The material also tends to last longer than these other products as it does not peel, rot, or require painting. Since the product is a synthetic creation, there is no practical limit to the color palette that might be possible. If you are looking to purchase vinyl siding for your building, it is important to take into consideration the product's thickness. Thicker products make for more durable siding with longer life spans.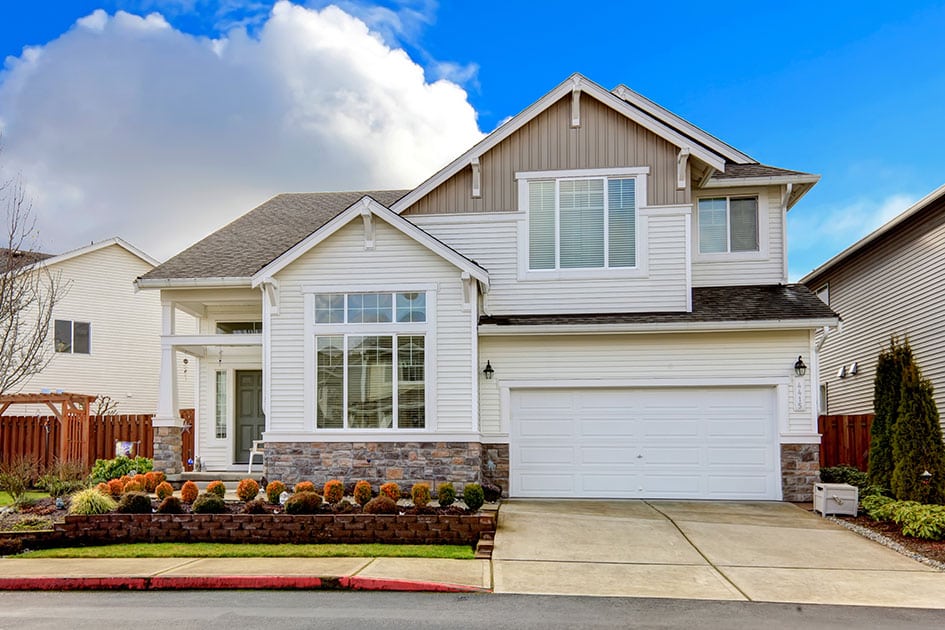 Vinyl has many things to recommend it, but one of the major points of appeal is its aesthetic quality. If your home is starting to look a bit shabby or its paint job is badly in need of a refreshing coat, replacing your current siding with a new vinyl exterior can update it in no time.
Vinyl siding is easily installed on top of brick, concrete, stone, and wood exteriors. It can provide your building with a brand new appearance in no time at all. With Dallas Siding, your home's exterior can go from shabby to beautiful in no time at all. Vinyl siding will increase the market value of your home conjure up the feelings that first enticed you to purchase your house.
INSULATED VINYL SIDING
Insulated vinyl siding has made a strong surge into the siding market over the course of the last few years. The product, manufactured to include a second backing board made of foam, offers the low-maintenance durability of vinyl siding, along with the added benefit of insulation. Together, these two products are able to increase the energy efficiency, appearance, and durability of any building, whether residential or commercial. Many people see an increase in energy efficiency over 30%.
The additional layer of foam also strengthens the vinyl, supporting the material. Beyond energy efficiency, foam insulation can also reduce outside noise pollution. While this product does tend to be more expensive at the start, it is well worth the investment over time. Homeowners who invest in insulated vinyl siding typically see significant returns on their initial investment in terms of increased real estate value and energy efficiency.
With an investment in insulated vinyl siding, you receive:
All the typical benefits of non-insulated vinyl exterior materials
Higher energy efficiency via increased insulation
More durable product than most other exterior materials
Significant reduction in noise pollution
VINYL SIDING INSTALLATION
Vinyl siding is an all-around fantastic choice for most homeowners. The material requires little upkeep and is highly durable. While the product is easy to maintain, it can also be tricky to install. It is highly recommended that you search out a well-qualified, professionally certified contractor to put your new exterior into place. At Dallas Siding, we are experts in the field. We are confident that if you work with us, your will love your new vinyl paneling. It will be perfectly installed and beautifully arranged.
Call to request a free estimate: (214) 253-8887
Or E-mail: info@DallasSiding.com
Dallas | Fort Worth | Arlington | Plano | Garland | Irving
Grand Prairie | McKinney | Mesquite | Frisco | Carrollton
Denton | Richardson | Lewisville | Allen | Flower Mound
North Richland Hills | Rowlett | Bedford | DeSoto